2 weeks is more than enough for you to ship your V-Day outfit from wherever to your doorstep. Because,
welcome to 2017
. No date? Never mind, get your dress first. Charm your date with one of these Valentine's Day styles. Or you can may just find your Prince Charming while partying out with your girls
💗
You go girl, so here are the some 2017 styles that will help you slay!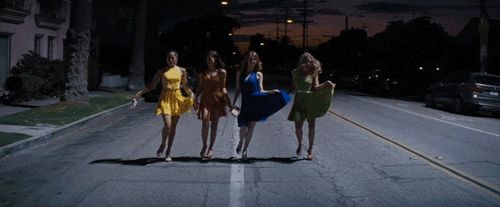 This timeless combination has always been very popular among the ladies because of its lethality. Pair a black lace dress with stiletto heels, large wavy long-haired curls, red lipstick and you're ready to slay. Just look at these ladies heat up the party wherever they are:
Zhang Xin Yu in a sexy black lace dress photoshoot
Photo credits: x
Angelababy looking sweet and demure in a 'little black dress' with a naughty spin
Fan Bing Bing at the 2016 Fall Paris Fashion
Liu Tao in a lacy black dress at Bvlgari event
Ruby Lin in casual sexy 'deep V' black dress
There are many ways to amp up the sexiness level with a touch of your own style. Ship your Valentine's Day arsenal with these options~
Pretty in Porcelain
Porcelain is still going strong as a trend from 2016. Its versatile oriental patterns can complement with modern A-line skirts or bohemian beach wear. It depends on your creativity, and how you rock it. Werk werk werk~
Left: Fan Bing Bing / Right: Model strutting down a runway


Photo credits:

x
Even Zhao Li Ying is onto this trend
It doesn't have to look like a 'Chinese New Year' recycled outfit
Playful design with a flare out skirt
You can even pair it with a scarf, layer blue on blue for a sweet, lovely effect
Whether you're a bold and confident kind of girl or a girl with a strict monochrome-only wardrobe, a red dress will make you stand out on a special day like Valentine's. Other than the Little Black Dress, every girl needs a Bold Red Dress that speaks her personality.
Sultry and sweet - you will be in the centre of attention

Liu Shi Shi on the cover of Cosmopolitan with great confidence
Disney Princess inspired drape dress, be your own Snow White
"Let's go for a Picnic!"
This is the most 'harmless' Valentine's lunch date style! Picking this style makes you appear effortlessly beautiful, chic and lovable. It certainly doesn't make you look like you're trying too hard to impress anyone, but yet maintaining a gorgeous look.


White paired with a pastel color is ideal, but my pick would be blue. It isn't too girly, and also a safe colour, if you want to maintain a clean and sheer look.
White stripes on a blue background make you look like you stepped out of a Japanese Home & Living magazine. There is a good blend of femininity and sophistication in this style.
If you are looking to turn down the 'formality' one more notch down (ie. 'Is this a date or not? Hmm but I still want to look good) go for a more flowy, lighter fabrics while keeping to a clean palette of colours! Let down your hair - figuratively and literally - and just wear what makes you comfortable.

For a really warm day out, wear a white flowy and airy top that will definitely accentuates girly vibes.
Experiment with colours, like pastel greens and yellows! This look is definitely very Korean-inspired, but not everyone can pull it off. If all else fails, you can always fall back on the little black dress and red lipstick. Happy Valentines Day, y'all. xx

Never miss a post again!
I share interesting episodes in life revolving around food, lifestyle, travel and inspirational ideas. If you would like to stay in touch, follow me on my Instagram on @amie.hu and
Facebook page
!